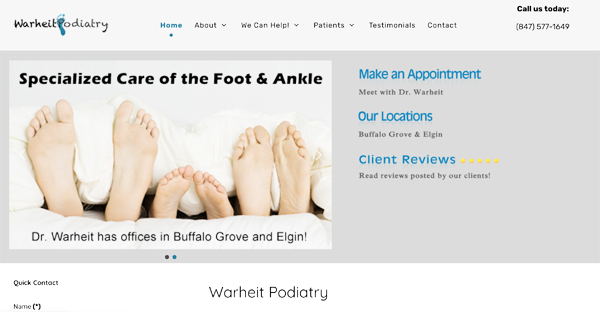 Web Design Client: Warheit Podiatry

Location: Buffalo Grove, IL 60089 & Elgin, IL 60124
Website URL: http://warheitpodiatry.com/


This client's Joomla website enjoyed front page search engine results pages for years. Due to the site's success in search engines, it was later targeted by hackers and was infected. This client then knew who to call. They called the same local Joomla website developer who assisted them years ago in the initial development of their medical website. This time, the goal was different. Not only was the objective to rebuild their website into a fresh and responsive "mobile friendly" format, there was a second goal of the project. That second goal was preserve their websites "search optimized content" when migrating data into the new site. However, we had to be careful not to bring the virus over to the new site.
AdverGroup specializing in migrating Joomla and Wordpress content while eradicating Joomla and Wordpress viruses which become visible by Google and impact your search engine rankings.
Additional Joomla Website Design & SEO Function Ability:
New logo and medical office website design for local Doctor and Podiatrist in Buffalo Grove and Elgin 60124

Installation and configuration of Joomla Content Management System

Configure Joomla Website Hosting

Search Engine Optimized Landing Pages

Sitemap and Metadata Coding Per Google Guidelines

Animated Home Page Slider

Graphic Design

Printed Business Cards designed to match medical website design

Joomla Virus Eradication
AdverGroup is a local medical website designer and developer who specializes in medical website designs. AdverGroup is located in Arlington Heights, IL, and is available to provide website development services for clients in Buffalo Grove, IL 60089 and in Elgin, IL 60124. Our close proximity to Buffalo Grove and our ability to meet with local clients made the decision easy for this Doctor who was seeking the best local medical office web designer in or near Buffalo Grove and/or Elgin.
Contact AdverGroup Web Design today for assistance in developing your custom website design!