Web Design Portfolio (32)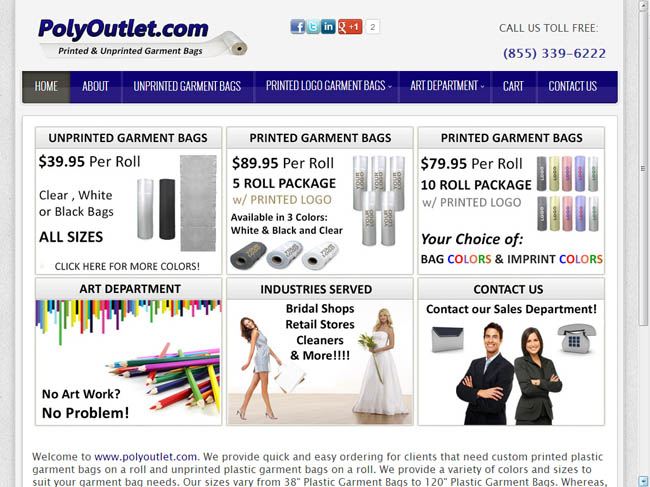 Web Design Client: PolyOutlet eCommerce
Client Location: Buffalo Grove, IL
Website URL: http://polyoutlet.com
AdverGroup assisted PolyOutlet in developing a custom eCommerce and shopping cart website using the Joomla CMS and the Virtuemart eCommerce Component. AdverGroup also assisted by including product photography for this local client that is in Buffalo Grove, IL.
PolyOutlet.com provides quality printed logo plastic garment bags on a roll and non printed plastic garment bags on a roll for Retail Stores, Boutique's, Bridal Stores, Dry Cleanering Companies and more!
The owner of PolyOutlet found AdverGroup Web Design by searching Google for a local Buffalo Grove web designer. Searching Google yielded AdverGroup Web Design as the #1 organic result (a testament to AdverGroup's SEO techniques). After a short conversation on the phone, AdverGroup and PloyOutlet met in person and quickly began development of the PolyOutlet eCommerce Website.
AdverGroup invites you to explore this website, which provides demonstrates the eCommerce and shopping cart capabilities provided within the Virtuemart Component. http://polyoutlet.com

---
Web Design Project Details and Website Features:
Joomla CMS Installation and Configuration
Custom Joomla Template
Virtuemart eCommerce Component Installation and Configuration
Shopping Cart with Customer Account Management
Product Configurations for Custom Fields and Product Attributes
Sitemap Customizations for Virtuemart Component
Newsletter Component for Email Marketing
SEO Expansion
Store Search Functions
Social bookmarking
Art Department Custom forms for Uploading Artwork
AdverGroup's close proximity to Buffalo Grove, IL provided this eCommerce client with a local option when they were seeking an eCommerce web design company local to Buffalo Grove. We worked closely with this client in developing custom field in their Virtuemart store that are spefic to their product type. Additionally, our custom video tutorials assists their staff in understanding the nuts and bolts of what it takes to manage a successful eCommerce and shopping cart website.
Managing your own eCommerce shopping cart website can be easy and painless! Contact AdverGroup Web Design today for assistance in developing your eCommerce website!
Learn more about eCommerce web design by www.advergroup.com by clicking here: eEommerce Web Design
Web Design Client: Judith Barath
Client Location: Oak Brook, IL
Website URL: http://judithbaratharts.com
We are thrilled to have worked with such a talented local Artist on this web design project! Judith Barath is a contemporary fine artist inspired by nature. Additionally, Judith is an avid traveler of the world discovering and reflecting the beauty of exotic places in her professional photographs. Her Oil Paintings, Digital Art and Photography demonstrate the depth and versatility of her incredible talents.
AdverGroup assisted Judith in developing a custom website that would allow her to display her collection of fine art and travel photography to the world!
Judith Barath invites you to explore this website, which provides a vast collection of her life's work. http://judithbaratharts.com