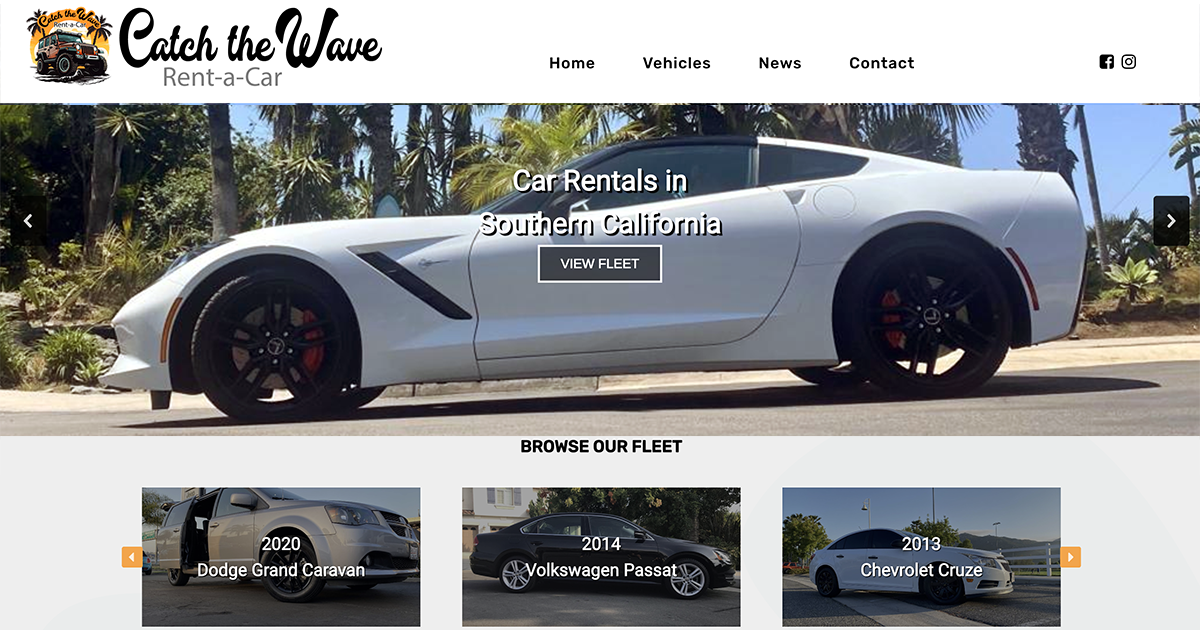 Website Design Client: Catch the Wave Car Rentals
Location: San Diego, CA
This client sought a professional website that they could call home base for their San Diego based rental car company. The owner currently does most of his rentals through a 3rd Party rental booking service but knew that he was out growing there service as his business is booming. Therefore, the goal of this project was to develop a corporate website which he could optimize for search engines and could also later be expanded to manage his car rentals and bookings directly through his website.
While searching for a website designer, he found AdverGroup. He was pleased to discover that while we are based in the Chicago area, we also serve clients across the United States and in San Diego California. It was also important to this client to select a Wordpress Website designer that would help him understand how to update his website and keep it growing. As we explained to him in our initial consultation that the secret to conquering search engines is to have pages titled intelligently and inline with what a search engine user might enter into a search engine. After completing our initial consultation he knew AdverGroup was the right choice for him! Therefore, he selected AdverGroup as the web design company to assist him with developing his new search engine optimized website.
Being a new company we also included free professional logo design.
This Wordpress Contractor Website Design Project included:
Custom Car Rental Website Design and Development.

This car rental service based in San Diego, CA did not have website. Therefore, we started from scratch, as we installed all the required plugins required to develop a successful search engine optimized contractor website.

Animation on Scroll (AOS) to allow animations of modules and website content in custom Wordpress web development and website design template.
Content Creation: Website included service page content creation that would help target local service areas near Buffalo Grove. Meaning that AdverGroup wrote all text content for this new window and siding contractor website design project. We coded all webpage articles to include proper metadata for search engine optimization.
Search Engine Optimization (SEO): We coded all metadata on their homepage and webpages, we also produced Search Optimized Blog Content and SEO Blog Configuration plus SEO Optimized Content Creation for this window and siding contractor website design.
Custom Vehicle Portfolio template to exhibit clients cars and trucks in an effective and attractive manner. All while implementing a Search Optimized Strategy for intelligently formatting and titling content with the intent to conquer SEO. This section of the website allows the client to feature their vehicles, while also providing a vehicle to grow their website (no pun intended) with intelligently titled articles.
Gallery Component Installation and Configuration. This gallery component will help the contractor exhibit their cars and trucks using a cool Lightbox image gallery for Wordpress.
Custom Contact Form Creation. This contact form allows the clients to convey the details of their car rental needs.
Creation of custom website Favicon.
Included configuration of Google Analytics and Google Webmaster Tools.
Additional Items Included with all Websites Designed by AdverGroup
Client can update every facet of this website including pages, posts, images, videos, home page slider and more. We taught them how to use their Wordrpess Admin Dashboard.

Included configuration of Google Analytics and submission of Sitemap to Google Webmaster Tools and Microsoft Bing.

We coached the client on how to optimize text content and metadata to satisfy Google Guidelines.
We are considered the best option among web designers serving San Diego, CA and nearby. We have designed and developed numerous rental and booking websites for many new businesses across the USA.
We select the platform that best suits your objectives. We develop professional websites using Wordpress, Joomla or Shopify. Contact AdverGroup today for assistance in selecting the correct website design platform that will best suit your needs.